Lighting up Bioinformatics
Between October 2006 and July 2007 the Structural Bioinformatics and Computational Biochemistry Unit will host a research residency for artist Tim Head. The residency has two key objectives: to encourage intellectual dialogue between artistic and scientific disciplines that both use computational programming and modelling as a central activity and to develop proposals for permanently commissioned work by Tim Head for the new building.
The residency will take place over the period of one academic year and allow a sustained period for discussion and experiment between Tim Head and Professor Mark Sansom and his team. During his residency Tim Head will develop design proposals for a digital work on the west end wall of the lower ground floor of the atrium and a design for the atrium carpet. Both works will be located adjacent to the SBCB unit. This project is supported by a Sciart award from the Wellcome Trust.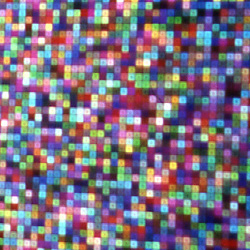 Tim Head, Treacherous Light (detail), digital projection
from real time computer programme, 2002
www.timhead.net
Tim Head CV
Page Last Updated: 25/01/2007 by Webmaster
© 2008 Department of Biochemistry