Tim Head
Tim Head studied at the University of Newcastle upon Tyne from 1965 - 1969 and took the Advanced Sculpture Course at St Martin's School of Art in London in 1969.
Tim Head has exhibited widely internationally. His solo shows include the Museum of Modern Art, Oxford (1972), Whitechapel ArtGallery, London (1974 and 1992); British Pavilion, Venice Biennale (1980); ICA, London (1985); Kunstverein Frieburg, Germany and touring (1995) and EnBw Headquarters, Berlin as part of Einsteinforum (2005). He has taken part in group shows including Documenta 6, Kassel, (1977); British Art Now: an American Perspective, Solomon R Guggenheim Museum, New York, and Royal Academy, London (1980); Live in Your Head: Concept and Experiment in Britain 1965 - 1975, Whitechapel Art Gallery, London (2000), Days Like These, Tate Britain, London (2003) and the 7e Biennale d'Art Contemporain de Lyon (2003). His work is represented in national and international collections including the Victoria and Albert Museum, London; Solomon R Guggenhiem Museum, New York; Tate, Walker Art Gallery, Liverpool; Arts Council England and the British Council.
Tim Head's public commissions have included the National Museum of Photography, Film and Television, Bradford (1985), Science Museum, London (1995), Queen Elizabeth Hall, London and tour (1993), Arts and Media Centre, Luton (1998), Eurythmics Peace Tour (1999) and the Corporation of London (2005).
Please click here for more images of Tim Head's work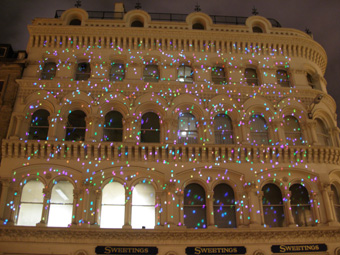 Tim Head, Float, digital projection of real time computer
animation onto exterior of building, 2005/06
www.timhead.net
Page Last Updated: 08/06/2007 by Webmaster
© 2008 Department of Biochemistry