Annie Cattrell
Annie Cattrell studied Fine Art at Glasgow School of Art finishing in 1984. She has an MA
degree in Fine Art from the University of Ulster (1985) and MA Royal College
of Art (1999).

Her solo exhibitions include Arresting, Faggionato Gallery, London (2006);
From Within, Faraday Museum, Royal Institution, London (2003); Werner
Klein Gallery, Cologne (2002). Group exhibitions include Out of the
Ordinary, Victoria and Albert Museum, London (2007), Invisible Worlds,
Kunstverein Freiburg, Germany (2006), The Body Art and Science, National
Museum of Stockholm (2005), Head On (art with the brain in mind), Science
Museum, London (2002), British Art, Allain Le Gauillad Gallery, Paris
(2002), Planet Earth, The City Gallery, Leicester (2001) and Detectable,
Real Gallery, New York (1998).

Her work is included in national and international collections including
Imperial College, Aberdeen Art Gallery, Wellcome Trust, Peter Moores
Foundation, Glasgow Museums and Art Galleries and private collections in the
US and UK. Research awards and residencies include Hope Scott Trust
Travelling Scholarship to America(1990), Millay Colony for the Arts Residency, New
York State (1994), Helen Chadwick Fellowship, Ruskin School of Fine Art with
the British School in Rome (2000/01),Leverhulme Artist-in-Residence at the Royal
Institution of Great Britain and Arts and Humanities Research Board
Art, Science and Technology Research Fellow at DeMontfort University
(2005/06)where is currently Senior Research Fellow in Sculpture.

Annie Cattrell's public commissions include Hammersmith Hospital, London;
Forest of Dean Sculpture Trail, University Hospital Lewisham and Centre for Life,
Newcastle.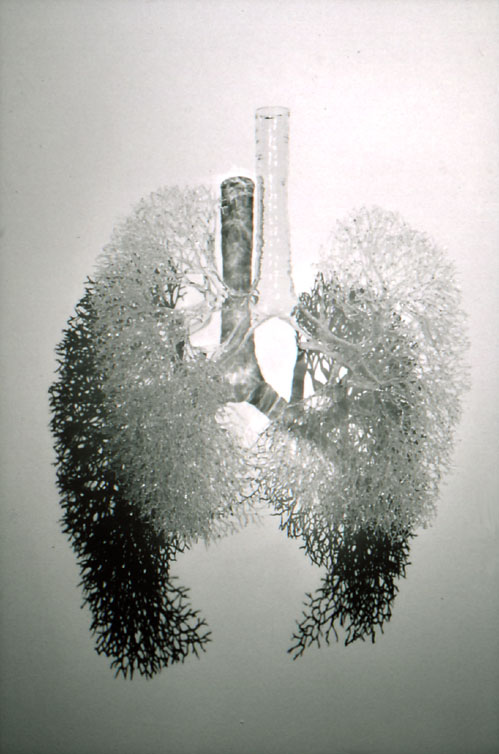 Page Last Updated: 04/03/2008 by Webmaster
© 2008 Department of Biochemistry