Ian Davenport
Ian Davenport studied Fine Art at Goldsmiths' College of Art in London. His solo exhibitions include Galerie Ludwig, Krefeld, Germany (1992), Paul Kasmin Gallery, New York (1992), Waddington Galleries, London (1990, 1993, 1996,2000 and 2003), Galerie Limmer, Cologne, Germany (1997), Dundee Contemporary Arts (1999)and Galerie Slewe, Amsterdam (2005). He has participated in may group shows including Young Contemporaries, Whitworth Art Gallery, Manchester (1985), Freeze, Surrey Docks, London (1988), The British Art Show, McLellan Galleries Glasgow & touring (1990), Metropolis Internationale Kunstausstellung, Martin-Gropius Bau, Berlin (1991), Nuevas Abstracciones, Palacio de Velazquez, Museo Nacional Centro de Arte Reina Sofia, Madrid (1996), Days Like These, Tate Triennial of Contemporary British Art, London (2003) and Concrete Matters, Nieuwe Vide Gallery, Haarlem, Netherlands (2006).
Ian Davenport's work is represented in national and international collections including The British Council, Dallas Museum of Art, Texas, Museum of Modern Art, La Spezia, Italy, Unilever, London and Weltkunst Collection, Zurich. He was nominated for the Turner Prize in 1991 and short-listed for the Jerwood Painting Prize in 2001. In 1999 he was the prize winner at the John Moores Liverpool Exhibition 21 and the following year was prize winner of the Primo del Golfo, la Spezia, Italy.
Ian Davenport was commissioned to create a wall painting for the Department of Mathmatics and Statistics at Warwick University in 2004. In 2006 he completed a 50 meter painting for Southwark Western Bridge in London, his first major, exterior public commission.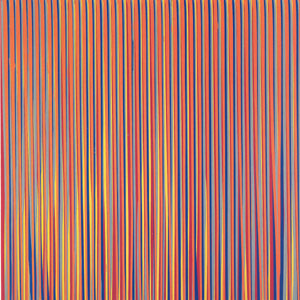 Page Last Updated: 29/01/2007 by Webmaster
© 2008 Department of Biochemistry